The Camping and Caravanning season at Currypool Mill opens on Good Friday (Easter) and closes in October. (During the peak Summer season and bank holidays there is a three night minimum booking). If you don't fancy camping then you can always still enjoy our site from the comfort of one of our self catering accommodation properties.
Onsite Facilities
Washing up room - operated by 20p coins (we charge for this service to avoid being water being removed and used for other purposes)
Laundry facilities - coin operated washing machine and tumble dryer 
Toilet and shower block - 

separate

male and female facilities. There is a separate unisex accessible wet room and toilet facility which can also be used as a family room (key for this available in reception £5 deposit)

Recycling of waste -  we ask that rubbish is sorted into the labelled re-cycling bins provided.
Site Shop and Reception -  Here you can pick up local produce including our own bottled pure apple juice, cider vinegar and preserves - a perfect gift to take home or reminder of your holiday!  We also sell ice cream & sweets plus caravan toilet chemicals for top and base tank as well as tinned food and other basic essentials.  
Play and recreation areas:

include a 9 hole putting course, a small boating pond, football field and small play park. Streams run throughout the property (not fenced off). A great opportunity for children to discover the wildlife living in the grounds and the water! (Children must be supervised by parent/guardian closely at all times). 
Site Information and Rules

We operate a 'cut off' point for noise between the hours of 11.00 p.m. and 8.00 a.m. but as a 'quiet peaceful' site we ask that there is no excessively loud noise at any time.
Smokers are asked not to drop cigarette ends on the ground please dispose of them safely.
We have a restriction on commercial vehicles. These are only permitted with prior telephone or email permission. Maximum one per unit.
If you are using a chemical toilet please only use the Green or organic toilet chemicals (these are sold in the site reception). As we are situated in a rural location we have to use a septic tank. Blue chemicals contains formaldehyde which prevents the organic breakdown in the septic tank.
Maximum electric load available on hook up points is 10 amps.
Breathable ground sheets only in awnings (tents excepted)
The site office is closed on Sundays, if you are arriving or leaving on a Sunday in low season please check times with the office in order for the security barriers to be opened for you.
Dogs:
Well behaved dogs are welcome but must be kept on a lead at all times whilst on the main site, they must not be allowed to foul the site areas.  There are large areas away from the main site available for off lead dog walking and a stream where they can paddle. Owners must clean up after their dogs, a bin is provided by the donkey stable.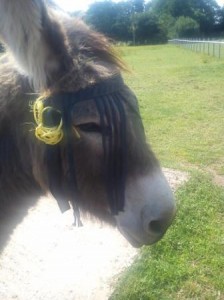 Donkeys:
One of the main attractions of Currypool Mill are our resident Donkeys. They are always happy to be petted (although we ask that people do not feed them) hand washing is always recommended after being with any animal.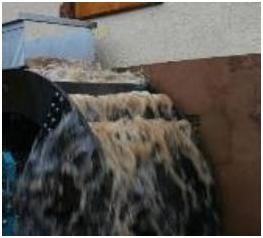 More About Currypool Mill:
Currypool Mill is an ancient Water Mill with a listing in the Domesday book, as part of its ongoing restoration a  waterwheel has been re-installed into the original wheel pit, along with a generator this produces electricity which supplies the Mill and Log cabin, any excess is fed to the national grid. We are pleased to announce that we now have solar panels fitted to the roof of the shower block.